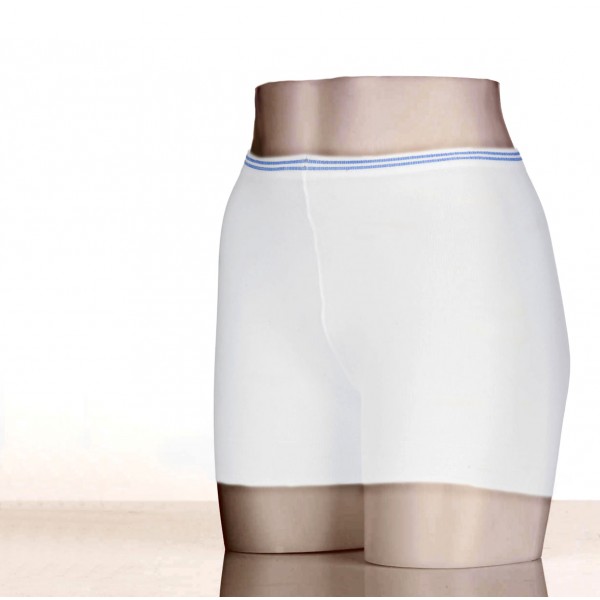 Kanga® Flexipants
Packs Contain 5 Net Fixation Pants
Get the best fit for your shaped incontinence pads with Flexipants
Kanga® Flexipants are elasticated net fixation pants for holding incontinence products against the body. Most often used with shaped incontinence pads, the Flexipants will fit against the body tightly and make sure that the pad is in the correct position.
When combined with shaped incontinence pads, the semi disposable nature of the pants makes them a very cost effective alternative to all-in-one slip pads (nappies). When used with pads with plastic backing the elasticated material will help keep rustling noises to a minimum.
Colour coded waist bands help you identify the size. Choose from the table below.
Each pack contains 5 elasticated net fixation pants.
Key Features
Soft Elasticated Pants
Suitable for Home or Carehome Use
Latex Free
Semi Disposable
Pack Contains 5 Pairs
| Size | Waist Size in inches | Waist Size in cm | Colour Code | Product Code |
| --- | --- | --- | --- | --- |
| Small | 20-30" | 50-75 cm | | IN-UKA-FLEX-S |
| Medium | 27-35" | 70-90 cm | | IN-UKA-FLEX-M |
| Large | 33-43" | 85-110 cm | | IN-UKA-FLEX-L |
| Extra Large | 41-51" | 105-130 cm | | IN-UKA-FLEX-XL |
| Extra Extra Large | 43-55" | 110-140 cm | | IN-UKA-FLEX-XXL |
Kanga® Flexipants | Net Fixation Pants for Incontinence Pads