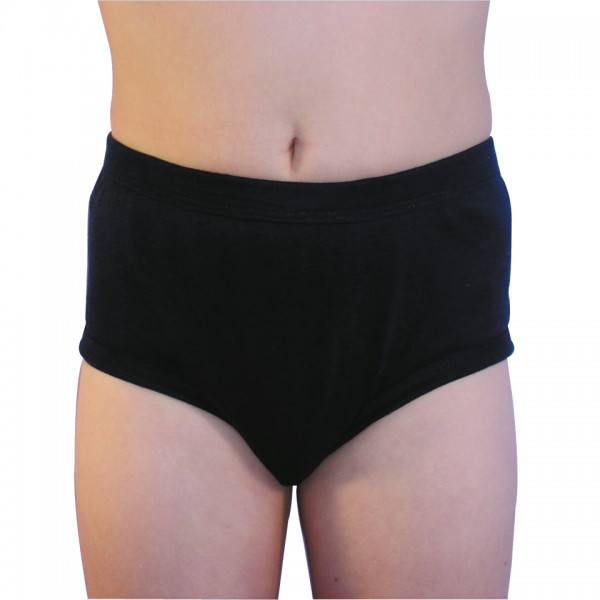 Upsey Daisy | Washable Training Pants for Boys


Washable training pants for boys by Upsey Daisy feature a much higher capacity pad than padded or concealed briefs. The unique "bucket system" is like a second pair of pants inside the first that has a large, thick absorbent pad and waterproof lining.
This system makes the pants far higher capacity than padded pants alone. As with all Upsey Daisy products these are attractively designed to look like ordinary underwear from the outside.
This is one of the few products that is designed to hold a whole wee (after which it should be changed) so if you are trying to deal with unexpected bladder evacuations this is the ideal product.
Due to the nature of the absorbent pad, your child will feel wet when the pants are wet making this an ideal training tool to assist with toilet training.
Smaller children or those with a smaller bladder should find the capacity adequate for bedwetting as well, however we would always recommend the Upsey Daisy Nighttime Briefs or Shorts for over night.
All washable incontinence products should be changed when they are wet - if you are expecting regular accidents you should get a few pairs.
Available in a fun printed design or plain design and with dropsides to help with children that use wheelchairs or regular soiling. Dropsides are also handy if you will be changing a few times a day as the pants can be changed without undressing.
For sizing please see the size guide tab above.
Who are These For?
Boys that have regular full bladder accidents during the day or suffer with light stress urinary incontinence
Boys that are toilet training
Boys that suffer with smearing or soiling during the day
Upsey Daisy Size Guide
Always measure your child to be certain of the correct size
| Size | Age Guide | Waist in Inches | Waist in cm |
| --- | --- | --- | --- |
| XS | 2-3 | 15" to 18" | 37 to 45 cm |
| S | 3-4 | 18" to 22" | 46 to 56 cm |
| M | 5-6 | 20" to 24" | 51 to 61 cm |
| L | 7-8 | 22" to 26" | 56 to 66 cm |
| XL | 9-10 | 24" to 28" | 61 to 71 cm |
| XXL | 11-12 | 28" to 32" | 71 to 81 cm |
Upsey Daisy Underwear Washing Instructions
Always wash before first use
Wash at 50°C
Do not use fabric conditioners
Do not bleach
Do not iron
Do not tumble dry
Pants should be air dried, turn inside out to expose the pad
Sterilising Fluid
ALWAYS READ THE INSTRUCTIONS CAREFULLY
MILTON FLUID HAS A BLEACHING EFFECT ON MATERIAL
Make up a solution of 5L of water to 30ml of Milton Solution or 2.5L of water to 15ml of Milton Solution.
Soak for 15 minutes to destroy any bacteria.
Wash garment as per care label instructions.
Alternatively use Milton Antibacterial Fabric Solution.
Upsey Daisy | Washable Training Pants for Boys