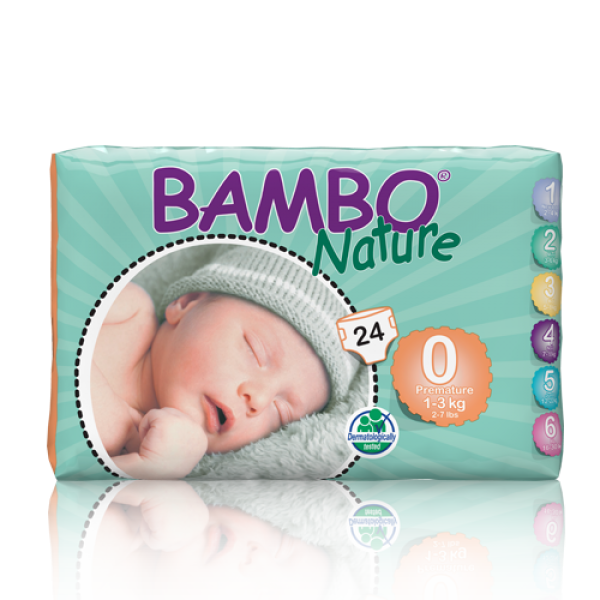 Bambo® Nature Premature Nappy | Size 0
Nappies Per Pack: 24
Weight in kg: 1 - 3 kg
Weight in lb: 2 - 6 lbs
Bambo Nature Premature Nappies is very gentle on your baby's skin, while providing a perfect fit that is comfortable and increases the freedom of movement. Bambo Nature nappies are also high performance, with optimum leakage control and a super soft top-dry layer which sits against your baby's skin, ensuring they remain dry at all times.
The added environmental benefits of Bambo Nature nappies will also give you peace of mind.
They are dermatologically tested, FSC certified and have the Nordic Swan Eco-Label.
| | | | |
| --- | --- | --- | --- |
| | Size | Weight Range lbs | Weight Range Kgs |
| | 0 Premature | 2-7 lbs | 1-3 Kg |
| | 1 New Born | 4-9 lbs | 4-4Kg |
| | 2 Mini | 7-13 lbs | 3-6 Kg |
| | 3 Midi | 11-20 lbs | 5-9 Kg |
| | 4 Maxi | 14-40 lbs | 7-18 Kg |
| | 5 Junior | 26-49 lbs | 12-22 Kg |
| | 6 XL | 35-66 lbs | 16-30 Kg |
| | Training Pants 5 | 26-44 lbs | 12-22 Kg |
| | Training Pants 6 | 40+ lbs | 18+ Kg |
Product Specification
Baby Nappy Size
0
Weight Range Kgs
1 - 3 kg
Weight Range lbs
2 - 7 lbs
Nappies Per Pack
24
Bambo® Nature Premature Nappy | Size 0