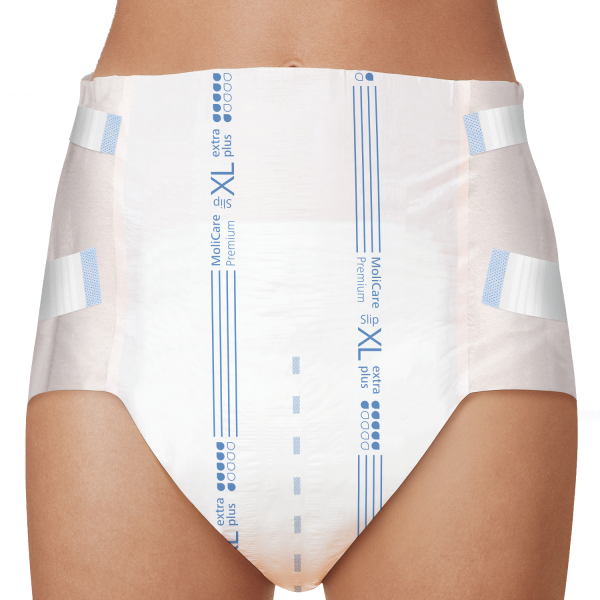 MoliCare

®

Premium All in One Briefs
High performance that is kind to the skin and enhances comfort and dignity


NEW - This product replaces MoliCare® Soft. MoliCare® Premium is the same absorbency level and size but the naming scheme, packaging design and back sheet design has been updated - Find out more


For a short time you may receive either MoliCare® Premium or MoliCare® Soft as our stock is replaced.


MoliCare® Premium All in One Briefs come in four absorbency levels and 5 sizes meaning you can select the most appropriate product for you and save money. The non woven side panels are breathable, keeping the wearer cool and reducing problems with skin irritation.
These are ideal for bladder and bowel incontinence, from moderate to very severe. MoliCare® Premium All in One nappies are great for people that are less mobile, or those with a greater level of need. The cover is made from a soft textile like paper which is fully waterproof, soft, comfortable and quiet.
The tapes can be reclosed several times making the product convenient for carers, and they have soft inner cuffs to help prevent leaks. The Super Absorbent Polymer absorbent core absorbs fluid quickly and has a built in odour neutraliser which enhances the comfort and dignity of the wearer.
MoliCare Soft All in One nappies make use of the MoliCare Active Skin Protection system, this means they are dermatologically tested for allergy sufferers, they allow the skin to breathe throught the Air Active system and they have a skin friendly pH level of 5.5 (which is antibacterial). All of this leads to fewer skin conditions which reduces costs for carers and makes the carer more comfortable.
See the size and absorbency guide below and then select your products using the menu above. Not all absorbency levels are available in all sizes. See the chart below to explore the range.
If you have trouble choosing you can call us on 01636 30 20 50 for advice, or even order over the phone.
Key Features
2 resealable tabs for a comfortable fit
Soft inner cuffs provide extra leakage protection
The breathable textile backing is kind to your skin and comfortable to wear
Coloured stripes to indicate the absorbency level
Wetness indicator on the backsheet shows when the product should be changed
Integrated odour neautraliser for diginity
| | | | | |
| --- | --- | --- | --- | --- |
| Product | Waist/Hip Cm | Waist/Hip Inches | Absorbency mls | Nappies Per Pack |
| MoliCare® Premium Extra Plus X Small | 40-60cm | 15-23" | 860mls | Pack of 28 |
| MoliCare® Premium Extra Plus Small | 60-90cm | 23-35" | 1040mls | Pack of 28 |
| MoliCare® Premium Extra Plus Medium | 90-120cm | 35-47" | 1240mls | Pack of 28 |
| MoliCare® Premium Extra Plus Large | 120-150cm | 47-59" | 1430mls | Pack of 28 |
| MoliCare® Premium Extra Plus X Large | 150-175cm | 59-68" | 1600mls | Pack of 14 |
| MoliCare® Premium Super Plus Small | 60-90cm | 23-35" | 1360mls | Pack of 28 |
| MoliCare® Premium Super Plus Medium | 90-120cm | 35-47" | 1700mls | Pack of 28 |
| MoliCare® Premium Super Plus Large | 120-150cm | 47-59" | 1870mls | Pack of 28 |
| MoliCare® Premium Super Plus X Large | 150-175cm | 59-68" | 2200mls | Pack of 14 |
| MoliCare® Premium Maxi Small | 60-90cm | 23-35" | 1350mls | Pack of 14 |
| MoliCare® Premium Maxi Medium | 90-120cm | 35-47" | 2290mls | Pack of 14 |
| MoliCare® Premium Maxi Large | 120-150cm | 47-59" | 2600mls | Pack of 14 |
MoliCare® Premium all in One Adult Nappies