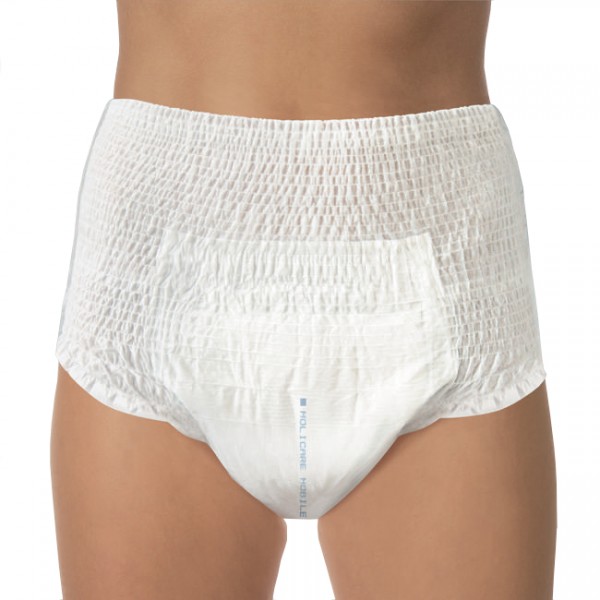 MoliCare Mobile Disposable Incontinence Pants
Packs Contain 14 Pull Ups
Discover a comfortable and secure incontinence solution for men and women
MoliCare Mobile Pull Up Incontinence Pants are a comfortable and secure way to deal with moderate to severe urinary and faecal incontinence. They can be worn just like normal underwear, but feature a very absorbent core and leakproof barriers.
Thin and discreet, this product is designed to be worn under clothes. The MoliCare Mobile is for active and mobile people that manange their own care, but it will easily cope with one or more full bladder voids. The cover is made from a textile like paper which is fully waterproof, soft, comfortable and quiet.

Some pull-up incontinence pants can get saggy when wet, but with these pants the wide elasticated waist band contains a high number of elastic fibers, meaning that the pants stay up. The body-fit design makes these comfortable to wear all day, whatever you are doing.
See the size and absorbency guide below and then select your products using the menu above. Not all absorbency levels are available in all sizes. See the chart below to explore the range.

Watch the video about MoliCare Mobile on Youtube
Each pack contains 14 disposable incontinence pull-ups.
Key Features
Discreet to wear
Unisex
Easy to fit and wear - just like normal underwear
Tear-open sides help to change used products quickly and easily
Soft inner cuffs provide extra leakage protection
The breathable textile backing is kind to your skin and comfortable to wear
Coloured stripes to indicate the front of the pull-up briefs
Wetness indicator on the backsheet shows when the product should be changed
Pull-up Pants in a pack: 14
MoliCare Mobile Product Guide
Absorbency & Size
Waist/Hip
Capacity
Pants Per
Pack
Light Small
60-90cm
23-35"
395mls
14
Light Medium
80-120cm
31-47"
395mls
14
Light Large
100-150cm
39-59"
489mls
14
Normal X Small
45-70cm
17-27"
621mls
14
Normal Small
60-90cm
23-35"
680mls
14
Normal Medium
80-120cm
31-47"
805mls
14
Normal Large
100-150cm
39-59"
949mls
14
Normal X Large
130-170cm
51-66"
1119mls
14
Super Small
60-90cm
23-35"
969mls
14
Super Medium
80-120cm
31-47"
1089mls
14
Super Large
100-150cm
39-59"
1273mls
14
Super Extra Large
137-170cm
51-67"
1273mls
14
MoliCare® Mobile Incontinence Pants