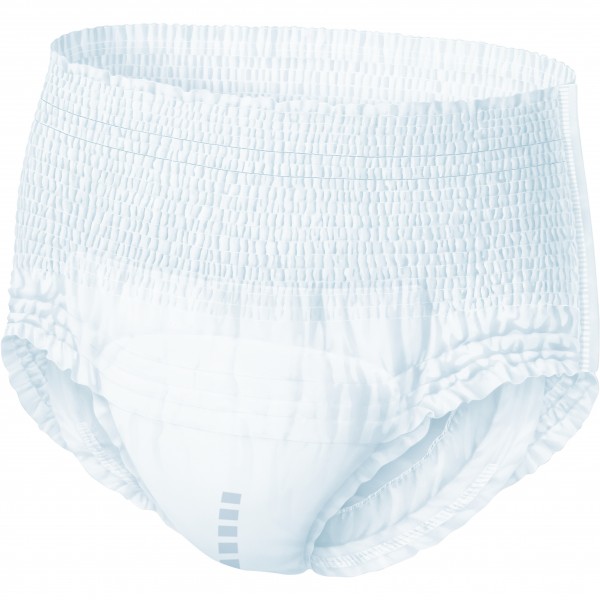 MoliCare® Mobile Extra Small | Pull-ups For Larger or Older Children
Plain white pull-ups with a higher capacity than supermarket pull-ups for bigger or older children, 6 years+


Unisex | 14 Pull-ups Per Pack


MoliCare® Mobile are child sized versions of the very popular adult product.
They have a great absorbency level and are much more absorbent than supermarket products like Drynites®.
These pull-ups are perfect to use over night for bed wetting and just as capable during the day.
Older children will really appreciate the discreet white cover. They are fully elasticated all around so they fit snugly to the body and don't sag when wet.
They are suitable for both urinary and faecal incontinence due to high internal leg cuffs.
Key Features
Discreet to wear
Unisex
Easy to Wear - Just use in place of normal underwear
Disposable
Tear open sides
wetness indicator show when they should be changed
14 Pull-ups per pack
Absorbency - 621 mls


Size Guide
To fit waist / hip size 45-70cm (17-27")
Always measure your child before buying to be sure of the correct fit
Who Is This Product For?
Boys and girls that have accidents during the day
Children that have no control of bladder or bowel
Children that have bedwetting accidents
Children that would prefer not to wear nappies
Children that find the absorbency of supermarket pull-ups not good enough
Product Specification
Gender
Unisex
Baby Nappy Size
8
MoliCare® Mobile XS (Children) | Pull-ups For Older Children