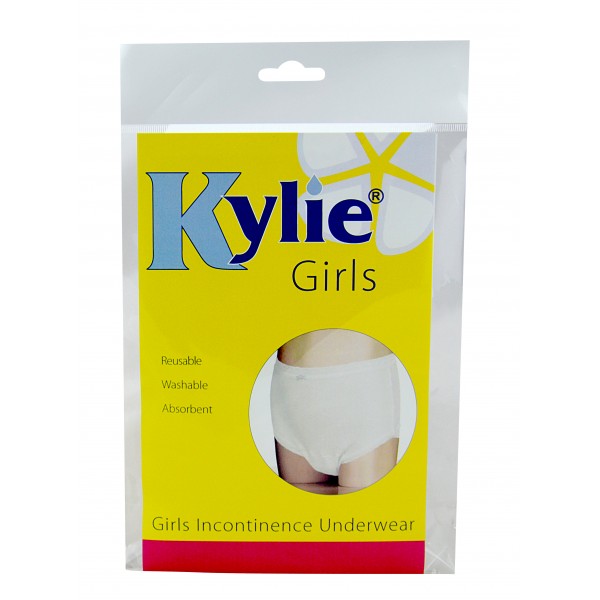 Kylie® Boys and Girls Washable Training Pants
Normal Pants With A Waterproof Absorbent Lining for ages 2 to 12+ Years
Forget disposable pull-ups or nappies, try Kylie® Childrens underwear instead. Washable, reusable, waterproof and absorbent

For children that are potty training, the Kylie® range for Girls and Boys are a perfect way to start. They look just like ordinary children's underwear but feature a waterproof lining and absorbent gusset.


Perfect for kids that need a confidence boost during the day.


Based on the same design that the market leading Kylie® Lady and Kylie® Male use, the technology used in the absorbent pad is trusted by thousands of people around the UK.


Kylie® Pants for children are not suitable for bedwetting. They are best used with a Kylie® Bed Pad to keep kids and mattresses dry.
The brief offers maximum protection, absorbency and reliability in the most discreet way
Washable and reusable
Assists with toilet training
Made from 100% cotton
Highly absorbent (150ml approx capacity)
Girls design is white
Boys design is black
Washable Pull-up Pants Approximate Age Guide


| | |
| --- | --- |
| Product | Age |
| Kylie® Children's Brief Small | 2-4 Years |
| Kylie® Children's Brief Medium | 5-7 Years |
| Kylie® Children's Brief Large | 8-9 Years |
| Kylie® Children's Brief X Large | 10-11 Years |
| Kylie® Children's Brief XX Large | 12+ Years |
Kylie® Washable Incontinence Pants for Kids