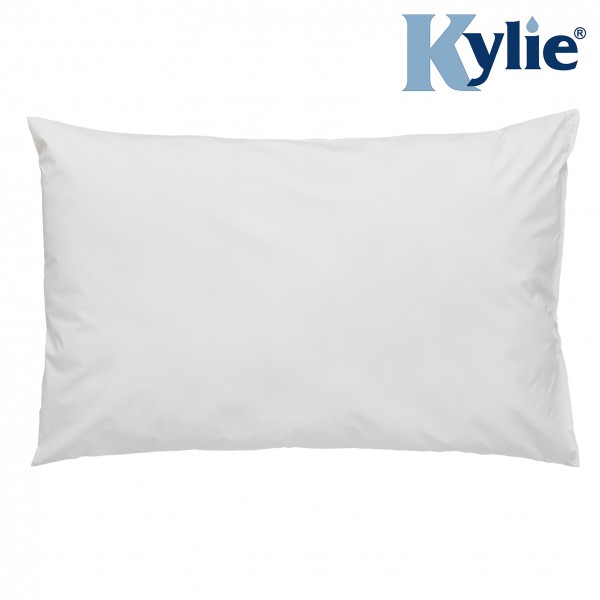 Waterproof Pillow from Kylie - Wipe Clean, Breathable Protection
Fully waterproof pillow, no more waterproof pillow cases!
Much more comfortable - Soft PU material instead of the PolyEthylene usually used in similar products
Easy to clean - Simply wipe it down!
It's fully breathable - you won't need to worry about sweating or overheating

Less hassle - Don't fumble with washing a waterproof pillow case, it's not required!
Better protection - Fully encapsulated waterproof protection
The Kylie Wipe Clean Waterproof Pillow is soft, comfortable and breathable. The Pillow is made from Polyurethane which is soft and flexible to the touch. The user will hardly feel the difference between this and a normal pillow.
Because it's fully waterproof you can stop trying to wash your pillows at home or taking costly trips to the launderette. If your Kylie Pillow gets wet you can simply wipe it down and it's good to go!
The Kylie Pillow is great for kids and will help with bedwetting accidents, but can also be handy for adults with disabilities or incontinence. For people with Alzheimer's disease these products can really help. Some people are confused by new incontinence products. The Kylie pillow won't be a problem though as It looks and feels just like a regular standard pillow.
Key Features
Highest quality, breathable, waterproof pillow
Made from super soft polyurethane
Flame retardant to source 5
Finished with impervious fluid proof binding
Available in Standard pillow size
Who Uses a Waterproof Pillow?
Good for kids with bedwetting accidents
Good for people with dementia, reduces confusion
Used in nursing homes, hospitals and care environments
People with stomas to protect against leaks
People that wear incontinence products - even the best pad can leak!
Kylie Waterproof Pillow | Fully Waterproof PU | Wipe Clean