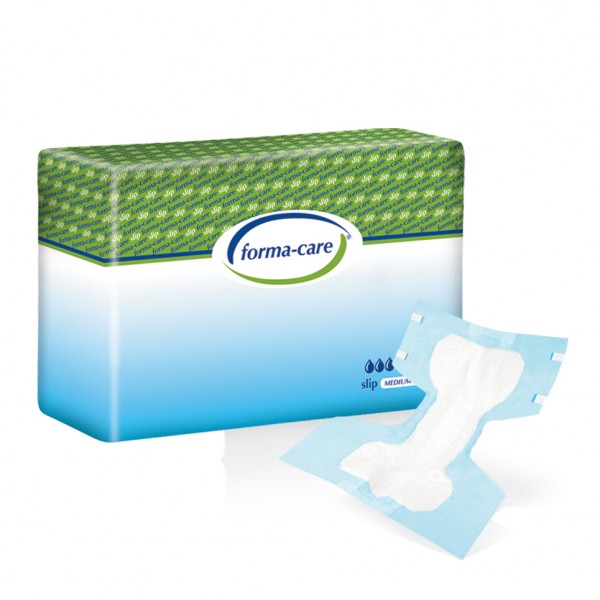 Forma Care® Comfort Slip All in One



Plastic Backed Adult Nappies


Highly absorbent, effective, great value and with a waterproof plastic backsheet


20 Nappies Per Pack
Medium 75-110 cm (29"- 43")
Large 110-150 cm (43" - 59")


Forma Care Comfort Slip All in One Briefs come in Medium or Large. The back sheet is a smooth plastic material. While waterproof, this is probably not the most discreet product which makes more suitable for users with the very highest level of need with reduced mobility.
The ISO absorbency rating given with these nappies is amongst the highest in the world, meaning the performance is likely to be more than good enough for almost everyone.
Some people feel that a fully plastic backed nappy like these will give them better protection and odour control. These nappies also feature premium features suck as anti-leak elasticated leg cuffs and elasticated waistbands.
Is Forma Care Comfort Slip a Replacement for the plastic backed MoliCare Super Plus or TENA Slip?
We have brought this product into our range because we are still getting complaints about the new style MoliCare Super Plus and TENA Slip. People still want a plastic backed version of MoliCare Super Plus or TENA Slip but there doesn't seem to be one. We searched hard to find Forma Care Comfort and hope very much that you will find these a great replacement.
The absorbency rating of these nappies is actually HIGHER than either MoliCare Care Super Plus or TENA Slip Maxi - this was a welcome surprise to us!
We offer great bulk discounts on these products, please select the size you require from the menus to the right of the image to see the bulk discounts. The discounts are calculated automatically based on the quantity you add to your basket.
If you have trouble choosing you can call us on 01636 30 20 50 for advice, or even order over the phone.
The pack quantities vary according to what you order, please see the Pack Quantities tab above for more information.
Key Features
Tabs can be refastened once
Inner leak guards and elasticated waistbands
Full plastic backsheet
Colour coded by size and absorbency
Wetness indicator on the back sheet helps carers know when to change
Good value and available with bulk discounts


Forma Care Size Guide (use hip size)
Medium 75-110 cm (29"- 43")
Large 110-150 cm (43" - 59")
Forma-Care Comfort Slip | Plastic Backed Adult Nappies