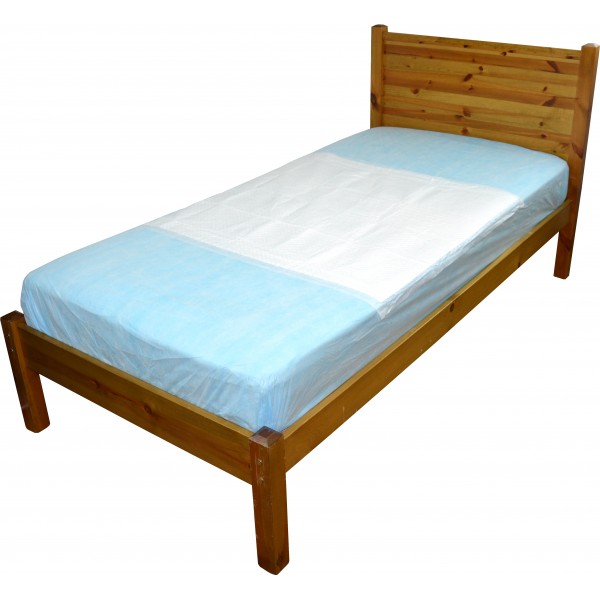 Kylie® Disposable Mattress Protector With Built in Absorbent Pad
Disposable Fitted Sheet With Waterproof Absorbent Pad | Pack of 5


NEW


This surprising product from Kylie® is perfect for occasional protection. The disposable fitted sheet can be fitted underneath a normal sheet for just in case protection. Should an accident occur the integrated absorbent pad will keep the user comfortable and dry all night.

One of the problems that some people find with normal disposable absorbent bed pads (or underpads) is that they can move around under the sleeper during the night. Sometimes the pad can get screwed up and therefore not protect the bed or the sleeper if an accident happens. This problem won't occur with the Kylie® Disposable Mattress Protector because it's fits to the bed like a fitted sheet, so the absorbent pad is always in the correct position to offer maximum protection.

Perfect to take on holiday for another line of defence, or for use on kids beds to provide unobtrusive protection, these disposable sheets with absorbent pads will put your mind at ease while offering unseen, comfortable protection all night long.
The absorbent area of the sheet is the same as our Kylie® Disposable Bed Pads and feature all the same great features such as ultra absorbent 5 layer design, dry touch top layer and odour control.
Key Features
Fits standard single size mattress approx 90 x 190 cm

Integrated absorbent pad size: 90 x 90 cm

Dry touch pad technology

5 Layer Super Absorbent Design

Odour Control
5 Sheets Per Pack
Kylie® Disposable Mattress Protector With Built in Absorbent Pad