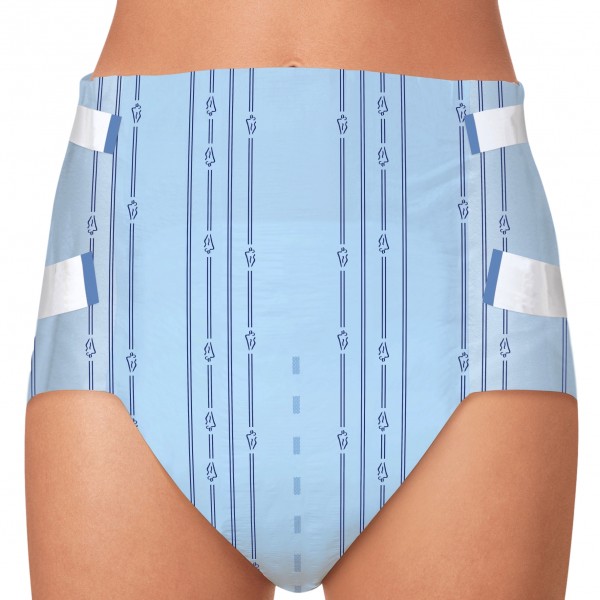 MoliCare Maxi Slip | Adult Nappies
Packs Contain 14 Adult Nappies
Highly absorbent plastic backed adult nappies, almost identical to the old MoliCare Super Plus
Over night absorbency - works very well for bed wetting
For many years we did very well with the old style plastic backed MoliCare Super Plus. When Hartmann ended that product and replaced with a new textile backed version of it some customers were left wondering what to do.
We have some great news for customers that liked the old style of product. It's back and it's called MoliCare Maxi.
The packaging had changed and the backsheet is now a light eggshell blue instead of purple, but the nappy is pretty much identical to how it was before. The leg shape, the plastic cover and the very high absorbency level are all the same as they were before.
The new MoliCare Maxi will be suitable for the following people:
People with extremely severe urinary or faecal incontinence




People that prefer the comfort and security that a plastic backsheet can offer




People (and children) with touch sensitive autism spectrum disorders that prefer the feel of plastic
Each pack contains 14 adult nappies. We have excellent bulk discounts available if you buy in cases (4 packs per case).
Key Features
Fully waterproof plastic backsheet for ultimate security
Elasticated leg cuffs
Ideal for absorbing heavy urinary or faecal Incontinence.
All-In-one nappy with fixation tabs
Very high absorbency and premium leakage protection features
Soft inner cuffs to help prevent leakage
Wetness indicator on the backsheet to show when the product needs changing
Items per pack: 14
The MoliCare Maxi Range
| | | | |
| --- | --- | --- | --- |
| Size | Absorbency | size in inches | size in cm |
| Small | 2153 ml | 20-31 | 50-80 |
| Medium | 3196 ml | 28-47 | 70-120 |
| Large | 3815 ml | 39-59 | 100-150 |
MoliCare® Maxi Slip | Plastic Backed Adult Nappies