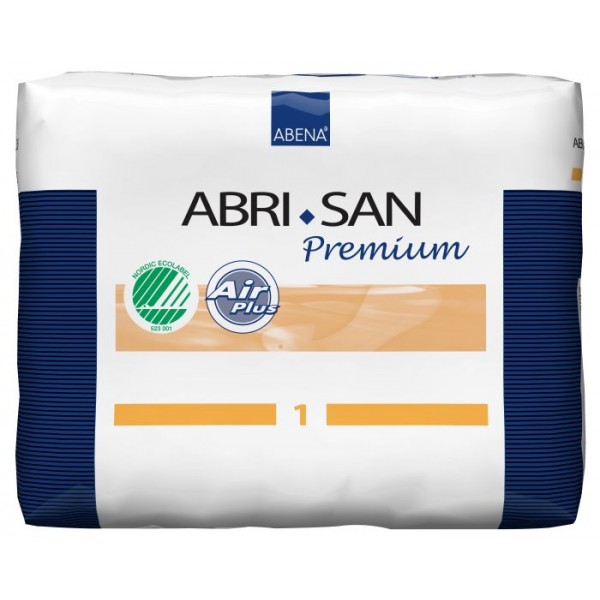 Abena® Abri-San
Shaped Incontinence Pads
Range of pads for light, moderate and heavy incontinence
Abena® Abri-San come in a variety of absorbency levels so that you can select the most appropriate product for you and save money. The backsheet is made from a comfortable textile like material that is breathable and kind to the skin. The fabric style backing makes this pad quieter that traditional plastic backed products and more comfortable.
These are designed primarily for urinary incontinence and will offer very good performance. The 3 layered absorbent core quickly absorbs urine, keeping it away from the skin and preventing leakages.
These are shaped incontinence pads, designed to worn with net fixation pants.
Abena® is committed to the environment. All of their products carry the Nordic Swan certification to show they are manufactured using green practises and can be disposed of safely.
If you are unsure which product you need, please see our guide below.
Key Features
Unisex incontinence pads available in different absorbency levels
Discreet textile like backing is quiet and rustle free
Unique 3 core absorbent layer keeps user dry and prevents leaks
Inner cuffs provide additional anti-leakage protection
Wetness indicator on the back sheet to help carers and users know when to change
| | | | |
| --- | --- | --- | --- |
| Product | Absorption in ml | Size in cm | Pads per pack |
| Abri-San 2 | 350 | 10x26 | 28 |
| Abri-San 3 | 500 | 11x33 | 28 |
| Abri-San 3a | 650 | 11x33 | 28 |
| Abri-San 4 | 800 | 20x44 | 28 |
| Abri-San 5 | 1200 | 28x54 | 36 |
| Abri-San 6 | 1600 | 30x63 | 34 |
| Abri-San 7 | 2100 | 36x63 | 30 |
| Abri-San 9 | 2400 | 36x70 | 25 |
| Abri-San 11 | 3400 | 36x70 | 16 |
Abena® Abri-San Incontinence Pads | All Sizes