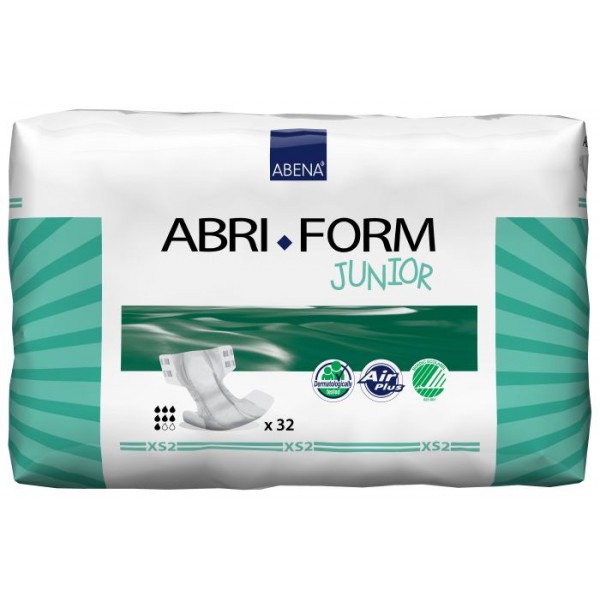 Abena® Abri Form Junior Children's Nappies
Abri Form Junior XS 2 are nappies designed especially for bigger or older children.
Pack contains 32 nappies
Suitable for children up to approx 9 years old
40-60cm Waist / Hip Size
Abri-Form Junior XS2 solves a problem that many parents face when their child outgrows the Libero® Size 7 Nappies. The next size up is normally Adult Extra Small size, which is too big for many children. Abri Form Junior XS 2 is specially designed to fill this gap between Size 7 and Adult Extra Small nappies. You can think of them as Size 8 nappies.
The problem that many parents have when their child outgrows standard baby nappies is that the next sizes up are full sized adult products. The difficulty with this is the padding can be a bit too thick between the legs and is therefore uncomfortable.
The Abri-Form Junior has been designed with a narrower core, so is more comfortable between the legs. If you are currently using Pampers 6+ we would recommend that you try Abena® Abri Form Junior XS2 next as this product offers a larger size and higher absorbency than Libero Size 7.
Abena® is a trusted name in adult continence care, and also makes the environmentally friendly Bambo range of babies nappies so you can be confident that these nappies will offer good protection and a comfortable fit.
Key Features
Extra protection with leakage barriers on the sides and in the front and back
Elastic tapes assist with creating the perfect fit
Curved elastics to fit children's legs
No plastic against the skin
Innovative double 3 layer narrower core
Wetness indictator on the backsheet with graduated scale
Breathable textile feel back allows skin to breathe
Nordic Ecolabel: Guaranteed sustainable production
Dermetiologically tested: Reduces risks for allergies
Latex free
Product Information
Waist / Hip Size
Absorbency
Nappies Per Pack
16-24"
40-60cm
1500mls
32
Size Guide
To see the size guide please click on the Size Guide tab above. These nappies are suitable for children aged between 3 and 9 years approximately, but the best way to check is to buy a pack to test or request a free sample from us.
Abri-Form Junior XS2 is an Alternative to Libero® Size 7 Nappies


We sell a lot of Libero® Size 7 nappies, but some parents have found that they are much better moving straight from Pampers 6+ into Abena® Abri-Form.
So far we have sold thousands of packs of these nappies and parents are delighted with the performance and fit. If you are finding that size 6, 6+ or 7 nappies aren't working for you, then try these out, they will almost certainly be the best option for you.
Product Specification
Gender
Unisex
Baby Nappy Size
8
What Do Parents Think About Abri-Form Junior?

"These nappies are just what I've been trying to find! They fit so much better than any I've tried so far (which is most of them available ) no leaks even on weekends apart from one and that was because I hadn't put it on as well as I could have, the most impressive thing is how dry my sons skin is when I take it off, bone dry. I had found that the wee smell had started hanging around on his skin even after washing, that has now completely gone since using these nappies. I have been using these nappies for a week and absolutely no soreness on his bum (which was the main reason NHS nappies were no good) I'd recommend these nappies to anyone, I feel like I've had an early Xmas present finding these nappies has been such a relief."
Review from happy customer Collette Clift
Size Guide
To be sure if these will fit first measure your child around the waist and hips. Use the largest measurement. The table below is a guide only
Age
2 – 3
3 – 4
4 – 5
5 – 6
6 – 7
7 – 8
8 – 9
9 – 10
10 – 11
11 – 12
12 – 13
13 – 14
14 – 15
15 – 16
Waist (cm)
52
53.5
55
56
57
58
60
62
63
64
65.5
67
71
75
Waist (inches)
20.5
21
21.5
22
22.5
23
23.5
24.5
25
25
25.5
26.5
28
29.5
Weight (Kg)
11.5-13kg
15kg
17kg
20kg
22.5kg
25kg
28kg
30kg
34kg
38kg
43kg
48kg
52kg
57kg
Most Suitable Nappy
Abena® Abri-Form Junior XS2
Small Size Adult Nappies
Abena® Abri-Form Junior XS 2 | Children's Nappies