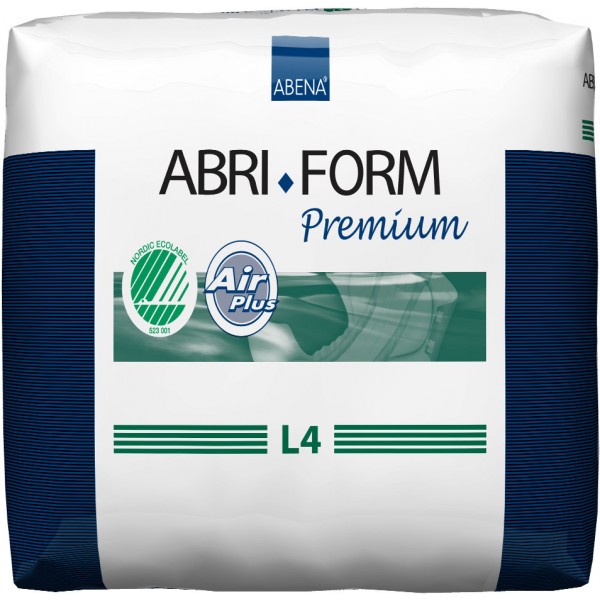 Abena® Abri-Form
Adult Nappies | All in one Incontinence Pads
Highly effective incontinence nappies that are kind to the environment
Abena® Abri-Form are all in one slip pads (nappies) that offer a very high level of protection and comfort for heavy urinary and faecal incontinence.
Designed for use with the highest levels of incontinence, these nappies feature advance leak barriers for extra security. The 3 layered absorbent core quickly absorbs urine, keeping it away from the skin and preventing leakages.
The smooth back panel is designed to prevent bed sores and the combination of soft textile like backing and flexible tapes makes this product suitable for use with physical activities, so you can retain your independence.
Abena® is committed to the environment. All of their products carry the Nordic Swan certification to show they are manufactured using green practises and can be disposed of safely.
If you are unsure which product you need, please see our guide below.
Key Features
Unisex adult nappies available in different absorbency levels
Discreet textile like backing is quiet and rustle free
Unique 3 core absorbent layer keeps user dry and prevents leaks
Inner cuffs provide additional anti-leakage protection
Wetness indicator on the back sheet to help carers and users know when to change
Non-woven side panels are breathable, keeping the user cool
Product Guide
Abena® Product Codes Explained
What is the difference between M3 and L4?
Let's take Abena® Abri Form L4 as an example. The letter is the size, so Large in this case, and the number is the absorbency level.
Abena® Abri Form products come in absorbency levels 1-4 with 4 being the most absorbent. Therefore L4 is the most absorbent product in size Large. Please see below for the size and product guides.
| | | |
| --- | --- | --- |
| Product | Absorption in ml | Nappies per pack |
| Abri-Form S2 | 1800 | 28 |
| Abri-Form S4 | 2200 | 22 |
| Abri-Form M3 | 2900 | 22 |
| Abri-Form M4 | 3600 | 14 |
| Abri-Form L3 | 3400 | 20 |
| Abri-Form L4 | 4000 | 12 |
Size Guide
Size
Waist Size

Small

60-85 cm

24-34"

Medium

70-110 cm

28-43"

Large

100-150 cm

40-60"
Abena® Abri-Form | Adult Nappies