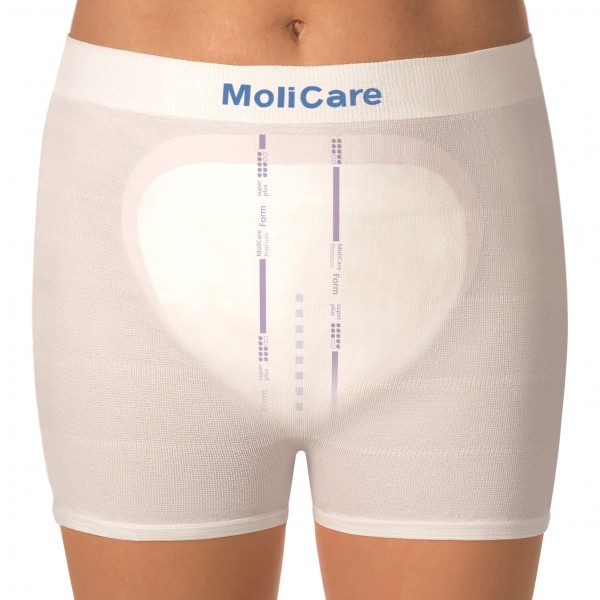 MoliCare® Form Premium Super Plus Shaped Incontinence Pads
Packs Contain 28 Pads
Explore a better way to manage continence care,
with cost effective results and easy application
MoliCare® Form Premium (Formerly called MoliForm® Soft) Incontinence Pads are a new generation of incontinence pad that is designed to be worn in net fixation pants. Suitable for moderate to severe urinary and faecal incontinence, these pads are a good alternative to incontinence pants or adult nappies. MoliForm® Soft allow the user to enjoy more independance as they can easily be changed without the fuss of removing clothes.
The absorbent pad features safe, chlorine free fluff which is highly absorbent. As the amount of material required to make a shaped incontinence pad is so much less than with other products, you make a significant saving on buying the product, disposing of it and the time taken to change the pad, which makes them an ideal investment in busy care homes, or for individuals who manage their own care and want to watch the pennies!
The pad features elastic leg cuffs to ensure a good fit meaning the user can own their freedom, free from worry about leaks. The cover is made from a textile like paper which is fully waterproof, soft, comfortable and quiet so the user can be sure their dignity will be maintained.They also have the Advanced Dry Zone to protect skin by quickly absorbing moisture and an integrated odour neutraliser for maximum peace of mind
If you have trouble choosing you can call us on 01636 30 20 50 for advice, or even order over the phone.
Each pack contains 28 disposable incontinence pads. If you buy in cases (4 packs per case) we have some great bulk discounts available to enhance your savings further.
Bulk discount rates:
5% Off - 4 Packs or more
10% Off - 8 Packs or more
15% Off - 12 Packs or more
Bulk discounts are displayed above when you select your product and are calculated automatically. Just enter your quantity above to take advantage!


Key Features
Discreet to wear
Easy to fit and wear - Just place into net fixation pants.
Easily removed by carers or users
Soft inner cuffs provide extra leakage protection for greater confidence
The breathable textile backing is kind to your skin and comfortable to wear
Coloured stripes to indicate the absorbency level of the product for easy management
Wetness indicator on the backsheet shows when the product should be changed
Incontinence Pads Per Pack: 28
Absorbency 1360 mls per pad
MoliCare® Form Premium Soft Incontinence Pads | Super Plus